Sexual Addiction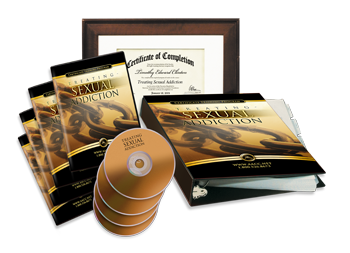 Dear Friends:
Sexual addiction is pandemic. Our culture is flooded with sexual content. Christians are constantly bombarded with sexual images and messages, yet within our churches sexuality is rarely mentioned. In the shadows of practically every church body are sexual behaviors many prefer to ignore.
For instance, did you know that every second 28,258 Internet users are viewing pornography? And that every second 372 Internet users are typing adult search terms into search engines. The number of online and resultant physical and emotional affairs are astronomical.
As such, we need to become actively aware of the issues, challenges, and effective treatment strategies to offer a healing path to those caught in this web of consuming desire and destruction.
AACC is pleased to announce the launch of a Professional Certificate Training Program in Sexual Addiction Counseling. Featuring leading experts like Dr. Mark Laaser, Dr. Daniel Amen, and Marnie Ferree, you'll be much better prepared to deal with this complex and challenging area of care.
When you successfully finish this program (more than 200,000 students have enrolled in a Light University course), you will earn a Certificate of Completion.
Blessings,


Tim Clinton, Ed.D., LMFT
President, AACC
Every second $3,075.64 is being spent on pornography.
Up to 37% of men and 22% of women admit to having affairs. Researchers think the vast majority of the millions of people who visit chat rooms have multiple "special friends." (- Dr. Bob Lanier)
Only 46% of men believe that online affairs are adultery. (DivorceMag)
TREATING SEXUAL ADDICTION includes 15 engaging DVD lessons featuring some of the world's best Bible teachers, medical experts, counselors, and educators… complete with course lectures, outlines, study notes and exams. All designed to increase your knowledge and people skills.
A SPECIAL PLACE IN GOD'S WORK.
Imagine the sense of joy and fulfillment you will find learning and being able to more adequately meet the needs of hurting people through biblically-based counsel. You can earn a certificate of completion in Biblical Counseling and up to 30 Continuing Education Credits.
A GREATER UNDERSTANDING OF ISSUES FACING MEN & WOMEN
Imagine the confidence, encouragement, and hope that will be gained through a better knowledge of the issues men & women struggle with in today's complex world.
CONVENIENCE
In an age when time and efficiency are at a premium, we offer you the convenience and advantage of classroom instruction sent to you on DVD so you can view and review as you need. There is also a comprehensive work text for going deeper at your own pace.
FLEXIBILITY
Light University offers quality training in a distance learning format that allows you to complete your education on your own time in your home or office. You determine your own class schedule and decide when and how you will study.
Lessons Include:
Diagnosis and Treatment of Sexual Addiction 1
Mark Laaser
Diagnosis and Treatment of Sexual Addiction 2
Mark Laaser
Diagnosis and Treatment of Sexual Addiction 3
Mark Laaser, Debbie Laaser and Marnie Ferree
Sex on the Brain: The Neurochemistry of Sexual Addiction
Daniel Amen
Sexual Healing: Breaking Free from Guilt, Shame and the Past
Russ Willingham
Female Sexual Addiction
Marnie Ferree
Restoring Marital Intimacy
Mark and Debbie Laaser
Spouse Recovery
Debbie Laaser and Jennifer Cisney Ellers
Couples Counseling
Mark and Debbie Laaser
The Seven Desires of the Heart
Mark Laaser
Every Man's Battle
Steve Arterburn
Accountability – The Book of Nehemiah
Mark Laaser
Special Populations: Sex Offenders
Ralph Earle
Special Populations: Homosexuality
Russ Willingham
Breaking the Bonds of Sexual Addiction
Mark Laaser