Genesis 2:24 Project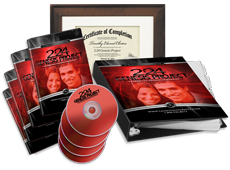 Dear Colleague:
Someday soon, probably sooner than I would like, my daughter, Megan, will ask me to walk her down the aisle to get married. That will be one tough day for this Dad.
The sad reality is that most who marry today don't have a good marriage. You know the statistics—somewhere between 40-50% of today's marriages end in divorce. Up to 80% of repeat marriages also end in divorce. Divorce rates would probably be higher if it wasn't for the large number of copules living together in "trial marriages." With the advent of no-fault divorce in 1969, if you follow the research, everything changed. Divorce skyrocketed. Talk of a lifetime love and marriage faded quickly. It hardly even hits the radar in most discussions, or even sermons in church.
The truth is that we are in a marriage crisis and we must do something to help build marriages that matter and last. That's why I am so pleased to announce AACC's premarital counseling program, "Genesis 2:24: Getting Love and Marriage Right the First Time." My prayer is that every couple will go through this dynamic program to help insulate and build a solid foundation for their marriage.
The program is based on Genesis 2:24, the very first verse in the Bible that deals with love and marriage. Co-hosted with best-selling author and marriage expert, Dr. John Trent, we wanted to develop a program that was real, straightforward, and firmly grounded in the Bible. Based on solid research, clinical practice, and rooted deeply in Scripture, Genesis 2:24 features some of the world's leading marriage experts. (While designed for couples who are preparing for marriage, it is also a wonderful tool for couples to go through during the early years of marriage.)
We all know that marriage is tough enough in and of itself. Having the right foundation—getting the fundamentals correct—is everything. Amazingly, research shows that premarital counseling reduces the risk of divorce up to 30%.
This is a wonderful resource for counselors, pastors, marriage mentors, church resource libraries, college and career classes and more. Every couple should be 2:24 certified!
Blessings,


Tim Clinton, Ed.D., LMFT
President, AACC
Lessons include:
Lesson 1:
The Faith Factor: Biblical Foundations in a Sacred Marriage
Tim Clinton and John Trent
Lesson 2:
Love Languages
Gary Chapman
Lesson 3:
Personalities and Communication: Finding Your Strengths as a Couple
John Trent
Lesson 4:
The Fear Dance: Managing Conflict
Greg and Erin Smalley
Lesson 5:
Managing Finances in Marriage
Don Blanton
Lesson 6:
Healthy Sexuality: Enjoying a Great Sex Life
Greg and Erin Smalley
Lesson 7:
Safe-Haven Marriage: Creating Emotional Closeness and Safety
Sharon May
Lesson 8:
Work-Life Balance
Julie Verner
Lesson 9:
Breaking the Fear Dance: From Anger to Intimacy
Greg and Erin Smalley
Lesson 10:
How Couples Lose at Love: Battling Disaffection in Marriage
Tim Clinton
Lesson 11:
Four Predictable Areas of Conflict: Conflict Resolution and Living as One
John Trent and Rodney Cox
Lesson 12:
The Necessary Nine: Staying Happily Married for a Lifetime
Dan Seaborn