Attachments
Are you disappointed with some of your closest relationships?
Do your emotions get out of control easily?
Do you sometimes feel unloved?
How can you avoid repeating the same relational mistakes?
Special Offer $129
(Regular Tuition $149)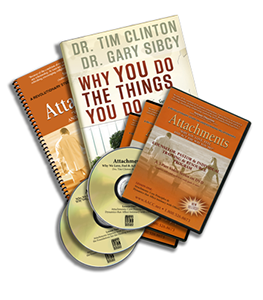 Dear Colleague:
The answers to these questions—to why you feel, act and relate the way you do—are found in your "attachment style."
Drawing on groundbreaking research, Drs. Tim Clinton and Gary Sibcy show what's at work when people flounder, or do surprisingly well, in the tricky business of loving and being loved. The authors deftly explain how our attachments develop as children and affect us as adults, how we fall into dysfunctional patterns, and how we can restore solid bonds with the people in our lives.
God created us to be attached to others. Maintaining and nurturing those relationships—that's the hard part. Attachments: Why You Love, Feel and Act the Way You Do will help you face the truth about who you are and gently modify your relational style at the same time. By doing so, you enjoy a deeper, more fulfilling life with others and, more importantly, with God.
A wonderful resource for:
Personal Enrichment
Those You Love
Counselor Training
Premarital Couples
Counseling Individuals
Small Groups
AND MORE…
When you enroll in Attachments, you will receive the following:
Three VIDEO Lessons on DVD by Drs. Clinton and Sibcy, including topics on…
Relationship rules and core beliefs we develop about the self and others
Attachment principles and dynamics that affect intimacy with others
Soul wounds and how attachment injuries occur
The four attachment styles
Taming emotional storms: Conquering depression, anxiety, anger and grief
Embracing God—The relationship that transcends all others
Breaking Free: An attachment-based prescription for changes that heal
PLUS, a comprehensive and interactive work text with lesson outlines and study notes, and one copy of the book, Why You Do The Things You Do by Drs. Tim Clinton and Gary Sibcy.
When you successfully finish this program (more than 200,000 students have enrolled in a Light University course), you will earn a Certificate of Completion.
Continuing Education credits are also available, if needed, for mental health professionals.
Blessings,


Tim Clinton, Ed.D., LMFT
President, AACC
Special Offer $129
(Regular Tuition $149)